Representative John Larson – Member, Board of Trustees, Goldwater Foundation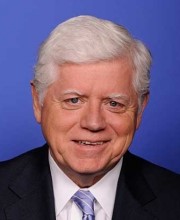 After serving 12 years in the Connecticut State Senate, John Larson (D-CT) was elected to the U.S. House of Representatives in 1998, serving in the House ever since. In 2016, Representative Larson was appointed to the Goldwater Foundation Board of Trustees by the House leadership.
Larson has a long abiding interest in education. He began his career as a high school history teacher and subsequently served on the East Hartford Connecticut Board of Education. In the U.S. House of Representatives, John has been an education advocate, stating, "In order to compete in the global economy, our Nation needs the world's finest education system." Representative Larson sees his service on the Goldwater Foundation Board as helping to achieve this end.
Representative Larson formerly served on the Armed Services Committee, Science Committee, and as Ranking Member of the House Administration Committee. Today, Larson serves on the influential House Ways and Means Committee and is the Ranking Member of the Subcommittees on Tax Policy and Social Security.
John Larson, born and raised in the federal housing project of Mayberry Village in East Hartford, fondly says he is the product of public housing, public education and public service. John graduated from Central Connecticut State University in 1971.
John and his wife, Leslie, have three children and live in East Hartford, CT.