Required Statements
Privacy Policy
Our privacy policy is clear: We do not collect personal information about you when you visit our website.
When you send us an e-mail, the information provided is used solely for the purpose of responding to the request. The information is destroyed after the request has been fulfilled. An e-mail is not necessarily secure against interception, however, so you may not want to include personal information such as your social security number.
Thank you for visiting our website and reviewing our privacy policy.
For further information contact: Dr. John F. Mateja 703-756-6012 goldwaterpres@goldwaterscholarship.gov
Anti-Harassment Policy
The Barry Goldwater Scholarship Foundation does not permit harassing conduct, sexual or non-sexual, by anyone in the workplace. The Goldwater Foundation maintains a work environment free from any unwelcome written, verbal, or physical conduct that is so objectively offensive that it alters the terms or conditions of employment or creates a hostile work environment. Such conduct rises to the level of harassment when the conduct can reasonably be considered to adversely affect the work environment or employment decisions affecting the employee are based upon the employee's acceptance or rejection of such conduct.
The Foundation will treat any harassing conduct as a form of misconduct and will act before a pattern of offensive conduct renders the workplace hostile. The Foundation will also not tolerate any retaliation against an employee making a good-faith effort of reporting harassing conduct.
Each Goldwater Foundation employee should act professionally and refrain from harassing conduct in their interactions with one another and with the public. Any employee who believes they have been the victim of harassment, sexual harassment, or sexual misconduct should promptly bring the matter to the attention of a management official, a Human Resources official, or an Equal Employment Opportunity (EEO) official. Any manager or supervisor who learns of an allegation of sexual harassment or sexual misconduct, must promptly report the allegation to Human Resources or EEO staff. Employees found in violation of this policy are subject to a variety of corrective actions in accordance with Chapter 75 of the Civil Service Reform Act, up to and including removal.
Any employee who wishes to initiate an EEO complaint arising out of an alleged incident of harassment, including sexual harassment and sexual misconduct, must contact an EEO official within 45 calendar days of the date of the incident. Employees should not wait until an internal inquiry is completed to contact an EEO official if waiting will result in the 45-day time limit expiring. Reports should be made to the President of the Foundation or the Administrative Officer.
Any employee who believes that they have been the victim of harassment may opt to participate in Alternative Dispute Resolution (ADR) and may seek assistance through the EEO program or alternative avenues of redress available in the employee's work area. Participation in ADR is strictly voluntary. If ADR is offered and accepted by the aggrieved person/complainant, it is mandatory for management to participate in ADR unless the Associate Administrator for Civil Rights determines ADR would be inappropriate.
If you are seeking employment with the Barry Goldwater Scholarship Foundation or with another branch of government, you may find additional information from the Office of Personnel Management or the Department of Labor.
Vulnerability Disclosure Policy PDF
Introduction
The Barry Goldwater Scholarship and Excellence in Education Foundation (BGSF) is committed to ensuring the security of the American public by protecting their information. This policy is intended to give security researchers clear guidelines for conducting vulnerability discovery activities and to convey our preferences in how to submit discovered vulnerabilities to us.
This policy describes what systems and types of research are covered under this policy, how to send us vulnerability reports, and how long we ask security researchers to wait before publicly disclosing vulnerabilities.
We encourage you to contact us to report potential vulnerabilities in our systems.
Authorization
If you make a good faith effort to comply with this policy during your security research, we will consider your research to be authorized we will work with you to understand and resolve the issue quickly, and BGSF will not recommend or pursue legal action related to your research. Should legal action be initiated by a third party against you for activities that were conducted in accordance with this policy, we will make this authorization known.
Guidelines
Under this policy, "research" means activities in which you:
Notify us as soon as possible after you discover a real or potential security issue.
Make every effort to avoid privacy violations, degradation of user experience, disruption to production systems, and destruction or manipulation of data.
Only use exploits to the extent necessary to confirm a vulnerability's presence. Do not use an exploit to compromise or exfiltrate data, establish command line access and/or persistence, or use the exploit to pivot to other systems.
Provide us a reasonable amount of time to resolve the issue before you disclose it publicly.
Do not submit a high volume of low-quality reports.
Once you've established that a vulnerability exists or encounter any sensitive data (including personally identifiable information, financial information, or proprietary information or trade secrets of any party), you must stop your test, notify us immediately, and not disclose this data to anyone else.
Test methods
The following test methods are not authorized:
Brute Force attack testing or Network Denial of Service (DoS or DDoS) tests or other tests that impair access to or damage a system or data
Physical testing (e.g. office access, open doors, tailgating), social engineering (e.g. phishing, vishing), or any other non-technical vulnerability testing
Scope
This policy applies to the following systems and services: https://goldwaterscholarship.gov/
Any service not expressly listed above, such as any connected services, are excluded from scope and are not authorized for testing. Additionally, vulnerabilities found in systems from our vendors fall outside of this policy's scope and should be reported directly to the vendor according to their disclosure policy (if any). If you aren't sure whether a system is in scope or not, contact us at BGSFsecurity@scholarshipamerica.org before starting your research.
Though we develop and maintain other internet-accessible systems or services, we ask that active research and testing only be conducted on the systems and services covered by the scope of this document. If there is a particular system not in scope that you think merits testing, please contact us to discuss it first. We will increase the scope of this policy over time.
Reporting a vulnerability
Information submitted under this policy will be used for defensive purposes only – to mitigate or remediate vulnerabilities. If your findings include newly discovered vulnerabilities that affect all users of a product or service and not solely BGSF, we may share your report with the Cybersecurity and Infrastructure Security Agency, where it will be handled under their coordinated vulnerability disclosure process. We will not share your name or contact information without express permission.
We accept vulnerability reports at BGSFsecurity@scholarshipamerica.org. Reports may be submitted anonymously. If you share contact information, we will acknowledge receipt of your report within 3 business days.
We prefer emails to be encrypted.
What we would like to see from you
In order to help us triage and prioritize submissions, we recommend that your reports:
Describe the location the vulnerability was discovered and the potential impact of exploitation.
Offer a detailed description of the steps needed to reproduce the vulnerability (proof of concept scripts or screenshots are helpful).
Be in English, if possible.
By submitting a vulnerability, you acknowledge that you have no expectation of payment and that you expressly waive any future pay claims against the U.S. Government related to your submission.
What you can expect from us
When you choose to share your contact information with us, we commit to coordinating with you as openly and as quickly as possible.
Within 3 business days, we will acknowledge that your report has been received.
To the best of our ability, we will confirm the existence of the vulnerability to you and be as transparent as possible about what steps we are taking during the remediation process, including on issues or challenges that may delay resolution.
We will maintain an open dialogue to discuss issues.
Questions
Questions regarding this policy may be sent to goldwaterao@goldwaterscholarship.gov. We also invite you to contact us with suggestions for improving this policy.
Document Change History
| Version | Date | Description |
| --- | --- | --- |
| 1.0 | March 1, 2021 | First issuance |
No Fear Act
On May 15, 2002, Congress enacted the "Notification and Federal Employee Antidiscrimination and Retaliation Act of 2002," which is now known as the No FEAR Act. One purpose of the Act is to "require that Federal agencies be accountable for violations of antidiscrimination and whistleblower protection laws." Pub. L. 107-174, Summary. In support of this purpose, Congress found that "agencies cannot be run effectively if those agencies practice or tolerate discrimination." Pub. L. 107-74, Title I, General Provisions, Section 101(1).
The Act also requires this agency to provide this notice to Federal employees, former Federal employees and applicants for Federal employment to inform you of the rights and protections available to you under Federal antidiscrimination, whistleblower protection and retaliation laws.
To date, there have been no complaints associated with the No FEAR Act filed with the Foundation.
Antidiscrimination Laws
A Federal agency cannot discriminate against an employee or applicant with respect to the terms, conditions or privileges of employment on the basis of race, color, religion, sex, national origin, age, disability, marital status or political affiliation. Discrimination on these bases is prohibited by one or more of the following statutes: 5 U.S.C. 2302(b) (1), 29 U.S.C. 206(d), 29 U.S.C. 631, 29 U.S.C. 633a, 29 U.S.C. 791 and 42 U.S.C. 2000e-16. If you believe that you have been the victim of unlawful discrimination on the basis of race, color, religion, sex, national origin or disability, you must contact an Equal Employment Opportunity (EEO) counselor within 45 calendar days of the alleged discriminatory action, or, in the case of a personnel action, within 45 calendar days of the effective date of the action, before you can file a formal complaint of discrimination with your agency. See, e.g., 29 CFR § 1614. If you believe that you have been the victim of unlawful discrimination on the basis of age, you must either contact an EEO counselor as noted above or give notice of intent to sue to the Equal Employment Opportunity Commission (EEOC) within 180 days of the alleged discriminatory action. If you are alleging discrimination based on marital status or political affiliation, you may file a written complaint with the U.S. Office of Special Counsel (OSC) (see contact information below). In the alternative (or in some cases, in addition), you may pursue a discrimination complaint by filing a grievance through your agency's administrative or negotiated grievance procedures, if such procedures apply and are available.
Whistleblower Protection Laws
A Federal employee with authority to take, direct others to take, recommend or approve any personnel action must not use that authority to take or fail to take, or threaten to take or fail to take, a personnel action against an employee or applicant because of disclosure of information by that individual that is reasonably believed to evidence violations of law, rule or regulation; gross mismanagement; gross waste of funds; an abuse of authority; or a substantial and specific danger to public health or safety, unless disclosure of such information is specifically prohibited by law and such information is specifically required by Executive order to be kept secret in the interest of national defense or the conduct of foreign affairs.
Retaliation against an employee or applicant for making a protected disclosure is prohibited by 5 U.S.C. 2302(b)(8). If you believe that you have been the victim of whistleblower retaliation, you may file a written complaint (Form OSC-11) with the U.S. Office of Special Counsel at 1730 M Street NW., Suite 218, Washington, DC 20036-4505 or online through the OSC website.
Retaliation for Engaging in Protected Activity
A Federal agency cannot retaliate against an employee or applicant because that individual exercises his or her rights under any of the Federal antidiscrimination or whistleblower protections laws listed above. If you believe that you are the victim of retaliation for engaging in protected activity, you must follow, as appropriate, the procedures described in the Antidiscrimination Laws and Whistleblower Protection Laws sections or, if applicable, the administrative or negotiated grievance procedures in order to pursue any legal remedy.
Disciplinary Actions
Under the existing laws, each agency retains the right, where appropriate, to discipline a Federal employee who has engaged in discriminatory or retaliatory conduct, up to and including removal. If OSC has initiated an investigation under 5 U.S.C. 1214, however, according to 5 U.S.C. 1214(f), agencies must seek approval from the Special Counsel to discipline employees for, among other activities, engaging in prohibited retaliation. Nothing in the No FEAR Act alters existing laws or permits an agency to take unfounded disciplinary action against a Federal employee or to violate the procedural rights of a Federal employee who has been accused of discrimination.
Additional Information
For further information regarding the No FEAR Act regulations, refer to 5 CFR 724, as well as the appropriate offices within your agency (e.g., Center for Equal Employment Opportunity, Center for Human Capital Management Services, or Office of General Counsel). OPM's specific antidiscrimination policies relating to equal employment opportunity and prohibited personnel practices have been physically and electronically posted throughout OPM. Additional information regarding Federal antidiscrimination, whistleblower protection and retaliation laws can be found at the EEOC website and the OSC website.
Existing Rights Unchanged
Pursuant to section 205 of the No FEAR Act, neither the Act nor this notice creates, expands or reduces any rights otherwise available to any employee, former employee or applicant under the laws of the United States, including the provisions of law specified in 5 U.S.C. 2302(d).
Equal Employment Opportunity (EEO) Policy Statement
The Barry Goldwater Scholarship Foundation ensures equal employment opportunity for all employees and applicants for employment regardless of their race, religion, color, sex (including pregnancy, gender identity and sexual orientation), national origin, age, genetic information, or disability. All employees will have the freedom to compete on a fair and level playing field with equal opportunity for competition. Equal employment opportunity covers all personnel/employment programs, management practices, and decisions, including, but not limited to, recruitment/hiring, merit promotion, transfer, reassignments, training and career development, benefits, and separation. Workplace harassment will not be tolerated, and the agency will correct the harassing conduct before it becomes severe or pervasive. Reprisal against one who engaged in protected activity will not be tolerated, and the agency supports the rights of all employees to exercise their rights under the civil rights statutes.
Should you decide to file an EEO complaint and believe that you have been discriminated against based on your race, color, religion, sex (including pregnancy, sexual orientation involving transgender status/gender identity, sex-stereotyping, and sexual harassment), national origin, age (40 years or older), disability (physical and mental), genetic information or retaliation (for prior participation in an Equal Employment Opportunity (EEO) activity or having opposed discrimination), you have 45 calendar days from the day the discrimination occurred to initiate an informal complaint through the Equal Employment Opportunity EEO process. EEOC shall extend the 45-day time limit when the individual shows that he or she was not notified of the time limits and was not otherwise aware of them, that he or she did not know and reasonably should not have known that the discriminatory matter or personnel action occurred, that despite due diligence he or she was prevented by circumstances beyond his or her control from contacting the counselor within the time limits, or for other reasons considered sufficient by EEOC.
In addition, if the discrimination involved a personnel action (for example, a demotion or firing), you have 45 calendar days from the day the personnel action takes effect to initiate an informal complaint through the Equal Employment Opportunity EEO process.
The Foundation also extends these protections to applicants to the Goldwater Scholarship Program. The Foundation does not discriminate against a candidate on the basis of race, color, national origin, religion, sex, age, genetic information, disability, marital status, pregnancy, economic status, or sexual orientation. The Foundation conducts an annual evaluation of its selection process to determine the best way to remove barriers that may operate to exclude certain groups and develop plans to eliminate identified barriers. If you have a suggestion on how this could be done, please contact the Foundation.
To file a complaint, please email goldwaterpres@goldwaterscholarship.gov or call 703-756-6012.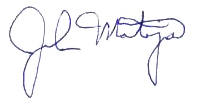 John Mateja
President
January 30, 2023
Reasonable Accommodation
The Barry Goldwater Foundation (BGSF) is dedicated to enhancing its recruitment, promotion, and retention of qualified persons with disabilities by providing the information and resources necessary to support them and to accomplish BGSF's mission. To implement the requirements of the Rehabilitation Act of 1973, as amended, the Foundation is committed to providing timely and effective reasonable accommodations to known physical or mental limitations of individuals (employees and job applicants) who meet the statutory definition of a qualified individual with a disability, unless to do so would cause undue hardship to the Agency.
Personal Assistance Services
The Barry Goldwater Foundation will provide personal assistance services (PAS) to qualified employees with a targeted disability or serious health condition designated on the U.S. Office of Personnel Management's Standard Form 256. Employees requesting PAS should follow the same guidance and procedures as for requesting Reasonable Accommodations. The Foundation will adhere to the same time frames for processing PAS requests.
Please review the Foundation's Reasonable Accommodation & Personal Assistance Services Policy and Procedures for more information. Accessible formats may be requested by contacting the Foundation at goldawaterao@goldwatersholarship.gov or 703.756.6012.
Disclaimer
The Barry Goldwater Scholarship Foundation website includes links to information maintained by other organizations. The Foundation provides these links for your information and convenience, but the Foundation does not guarantee the accuracy of information found on these links.
The U.S. Office of Special Counsel (OSC)
​​​​​​​​​​​​​​​​​The U.S. Office of Special Counsel (OSC) is an independent federal investigative and prosecutorial agency. It's basic authorities come from four federal statutes: the Civil Service Reform Act, the Whistleblower Protection Act, the Hatch Act, and the Uniformed Services Employment & Reemployment Rights Act (USERRA).
OSC's primary mission is to safeguard the merit system by protecting federal employees and applicants from prohibited personnel practices, especially reprisal for whistleblowing.