Peggy Goldwater Clay – Chair, Board of Trustees, Goldwater Foundation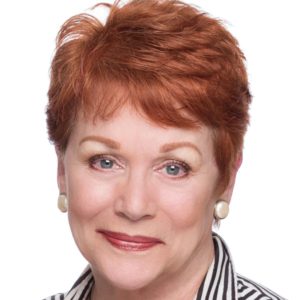 Peggy Goldwater Clay has more than 40 years of entrepreneurial experience and community involvement in public relations, marketing, sales, product development, customer relations, fund raising, event planning, volunteer management and community relations.
She is part owner and former president of Goldwater's Foods of Arizona. She just retired from the position of Community and Political Relations for Working Wardrobes. She was previously Executive Director of the Mission Pageant Foundation, Director of major gifts for the Irvine Barclay Theatre, Director of client relations for the Career Company, and owner and president of Peggy Jane's Inc. which she sold to Knotts Berry Farm Foods.
Mrs. Clay was a trustee of The UCI Foundation and served as president of the UCI Brain Imaging Center Advisory Board for 16 years. She received the UCI Medal in 1996 and a UCI Alumni Association Lauds and Laurels Award for University Service in 1993.
She is a board member of the Air Force Academy Foundation, and PBS SoCaL. She was a member of the National Council of Trustees of the Freedoms Foundation at Valley Forge. President Bush appointed her to the board of the Barry Goldwater Scholarship Excellence in Education Foundation, where she has Chaired for 12 years. Mrs. Clay was past president of the board for the Children's Bureau of Orange County.
Mrs. Clay has been recognized as the Distinguished Woman of the Year by the Orange County Soroptomists, Woman of the Year by the 70th Assembly District and Assemblywoman Marilyn Brewer, and Woman of Valor by the American Diabetes Association of Orange County. She also received a YMCA Reach Out Award and was honored by the Alzheimer's Association of Orange County and the Freedoms Foundation at Valley Forge.
Mrs. Clay is the youngest daughter of former Arizona senator and statesman Barry Goldwater.