M. Edward Galindo – Member, Board of Trustees, Goldwater Foundation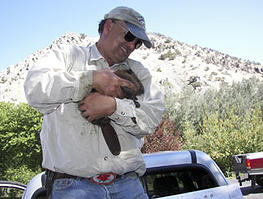 Dr. Galindo (Yaqui, American Indian) is a faculty member at the University of Idaho, Associate Director for Education and Diversity for the NASA Idaho Space Grant Consortium, Affiliate faculty member at Idaho State University (Biology Department) and Affiliate faculty member at Utah State University (Physics Department). Dr. Galindo has extensive education and research in working with Native American students. While serving as chairman of the science department on the Shoshone-Bannock Indian Reservation, he was twice elected as the National Indian Teacher of the Year, awarded by the National Indian School Board Association. Dr. Galindo describes himself as "round and brown", full of curiosity for life and learning. He finds humor in most things on this planet, including himself.
Ed is very proud to currently be serving as a board member with the Barry M Goldwater Scholarship and Excellence in Education Foundation. Most recently, Ed was honored to be inducted as a lifetime (Sequoyah Fellow) member of the American Indian Science and Engineering Society (AISES) for research and educational outreach in the American Indian communities. The Native American Research and Education Foundation was a host of an honoring dinner held at Las Vegas Nevada in April (2016).